Start Learning Piano Today
Launch Midiano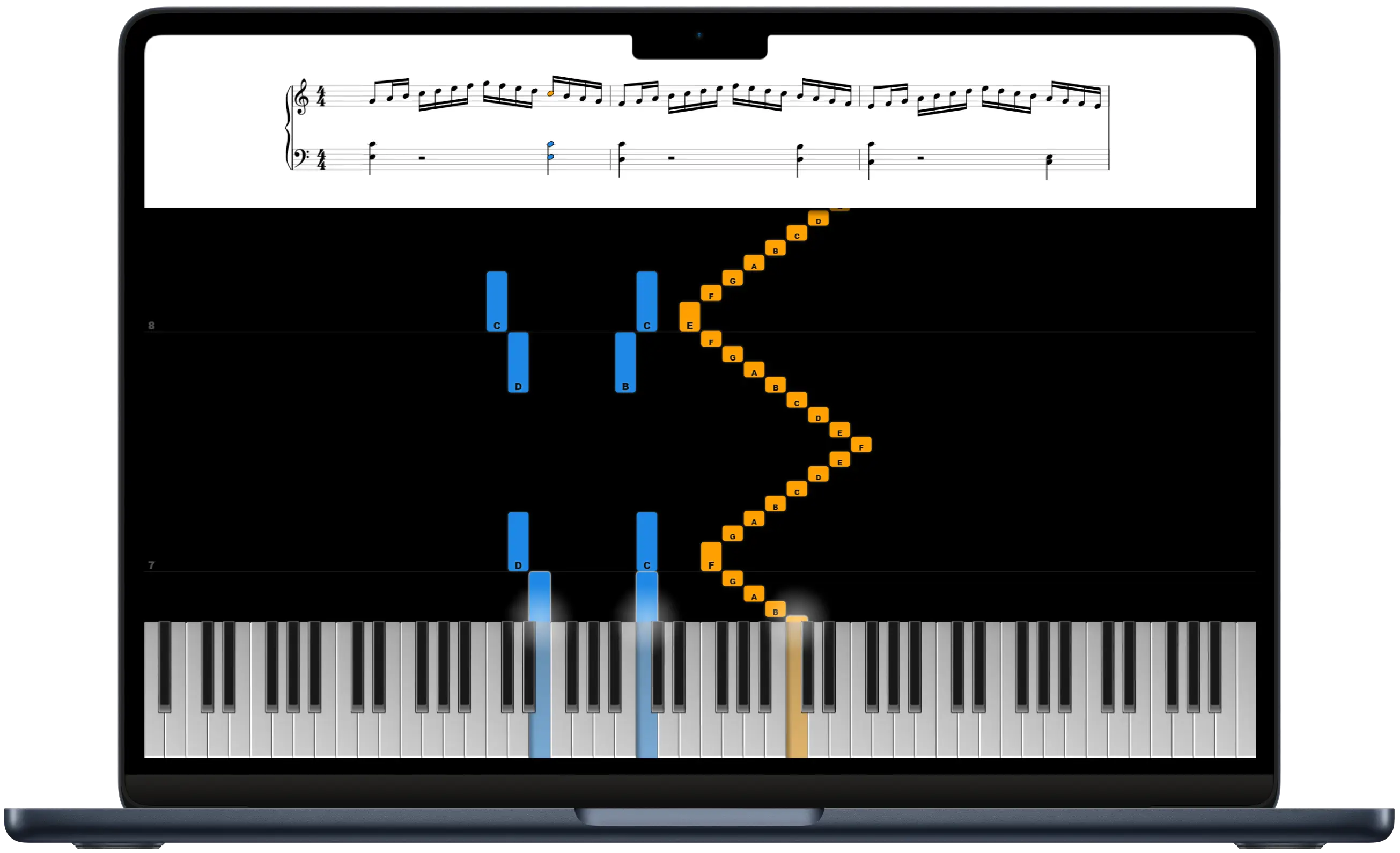 About
Midiano is an interactive Piano-learning app that runs on any device with a modern browser.

Open any MIDI-File and Midiano shows you the notes as falling bars over a piano as well as the corresponding sheet music.

Connect a MIDI-Keyboard to get instant feedback if you hit the correct notes. You can also use the keyboard as output device to play the MIDI-Files on your keyboard.

It runs on any browser (and device) that supports the WebAudioAPI (Full support apart from Internet Explorer). To connect a MIDI-Keyboard the browser also needs to support the WebMIDIAPI (All browsers except Safari and Firefox for Android).
Lots of Features
Upload any MIDI file
Learn any song with any file or choose one of the many default songs
MIDI Support
Connect your MIDI keyboard and get instant feedback!
Sheet Generation
Midiano automatically creates sheet music from your MIDI files!
Play at your own Speed
Quickly adjust the speed of any song to learn at your own pace
All devices supported!
Works on any device with a modern browser on Desktop, iOS and Android.)
Intuitive Controls
Pause, Skip Forward or Backward, Adjust the Speed - quickly navigate through songs
Highly customizable
Customize colors, effects, instruments and much more

Play-along-mode
Midiano waits for you to hit the correct notes
Loop function
Effectively learn difficult parts of any song!
3 Soundfonts
Choose between 3 full MIDI soundfonts and 1 HQ piano soundfont!
Latest Updates
30.11.2023
Implemented HDPI versions for the progress bar, the piano and the sheet music so it's no longer blurry on devices with higher pixel ratios (retina screens, most phones etc).
Fixed unresponsive color picker buttons
Added touch events to the progress bar - You should be able to drag around it like on desktop now.
Fixed a bug that prevented the menu from being hidden
The volume multiplier now also affect input notes.
26.11.2023
New website goes online! I've recently moved the Midiano app itself to app.midiano.com. This was a long overdue step to untangle the website and the app. Before, the code generating the static about page and the code of the app itself were within the same codebase. Now that the app has moved to app.midiano.com I'll have more freedom creating new pages under midiano.com without having to touch the app itself.
25.11.2023
Added a flare visual on the piano keys. You can enable/disable it as well as adjust some settings under General -> On-Screen piano.
Fixed detection of MIDI devices if they're only available after the page has loaded.
Added sustain events to MIDI output! Sounds much nicer now.
Added an option to set the background color of the music sheet
Added an option to render the music sheet tracks as grand staff. Also fixed the spacing between staves and added an option to adjust the spacing.
All fetch events are now cached, so that you can use the three general MIDI soundfonts offline if you've used them before!
01.11.2023
Added a transpose setting! You can find the setting under 'General' -> 'General' -> 'Transpose (+/- semitone)' Easily transpose a song up or down up to 12 semitones. Affects audio, the note bars and the sheet music. When sheet music is enabled it will take a while to update the key and regenerate the sheet but otherwise it should be instant.
Put the uploaded songs category at the top under Songs.
Adjusted the particle settings. Set a little more usable ranges for the noise resolutions and strengths and decreased the minimum particle speed below 1 enabling you to slow everything down.
29.10.2023
New particle settings! Added options to affect particle movement & size with noise functions creating cool swirly effects.
Added option to play notes while scrolling / dragging through the song. This was a requested feature to help transcribing messy MIDI files.
The song name & artist were displayed wrong. That should be fixed now.